Colored and Black & White Printable Postcards For Only $12! 
A random act of kindness doesn't have to be some big grandiose gesture. Sometimes, a little inspirational note is the perfect way to spread kindness and put a smile on someone's face.  My personal mission is to spread joy and happiness throughout the world, one coloring (or colorful!) page at time. And so I present to you: Kindness Postcards.
Each package contains a set of 4 postcards in the following formats to suit any need imaginable:
4 colorable postcards in black and white
4 full-color postcards (same designs)
Postcard back
PDF, JPG and PNG formats
PSD files
Private Label Rights!
These postcards come with a traditional back that will allow you to have them printed if you so choose. Plus, we've included PSD files so you can alter them as desired. There are limitless possibilities with how you chose to use your postcards – and they don't have to be used as postcards. Get creative!
Use the black & white images as colorable images in your journals, or low content packages
Use the colored images as illustrations in your projects
Upload the PNGS to your favorite printing service and have physical postcards shipped to you – resell if desired
Create a challenge with your tribe to color and send a card to someone each month – offer prizes or kudos when they do so
Send physical postcards snail mail to your best customers, or to new customers (prints best in 110# cardstock from your home computer, or Office Depot, etc)
Sell them on your site, or etsy, etc
This month's kindness thoughts:
You are worthy of your achievements.
Have faith in yourself and your abilities.
Embrace all parts of yourself.
Be proud of your accomplishments.
Want to Get These Free?
Kindness Postcards Monthly are delivered as part of our All Access Pass.
Each week, for as long as you remain an active subscriber, you will get one new package delivered on Tuesdays (the 1st – 4th Tuesdays, monthly).
1st Tuesday of the Month – 35-page Monthly Theme Package – $46.50 value
2nd Tuesday of the Month – New Coloring Pages Package – $30-45+ value
3rd Tuesday of the Month – Kindness Postcards Monthly – $12 value
4th Tuesday of the Month – New Coloring Planner Package – in both colorable black and white AND full-color – $45-60+ value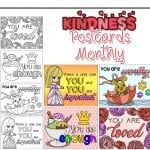 Kindness Postcards #1 – $12
Click Here to Buy Now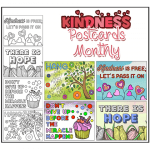 Kindness Postcards #2 – $12
Click Here to Buy Now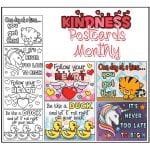 Kindness Postcards #3 – $12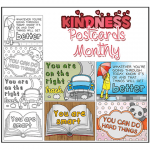 Kindness Postcards #4 – $12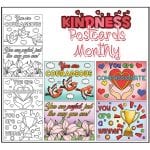 Kindness Postcards #5 – $12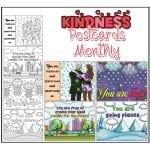 Kindness Postcards #6 – $12