Colored and Black & White Printable Postcards For Only $7 $5 Per Month!

A random act of kindness doesn't have to be some big grandiose gesture. Sometimes, a little inspirational note is the perfect way to spread kindness and put a smile on someone's face.  My personal mission is to spread joy and happiness throughout the world, one coloring (or colorful!) page at time. And so I present to you: Kindness Postcards Monthly.
Each month, for the ridiculously low price of  $7 $5 you'll receive a set of 4 postcards in the following formats to suit any need imaginable:
(2) pages of 2 postcards – black and white (PDF)
(2) pages of 2 postcards- black and white (JPG)
Images of all 4 individual postcards- black and white (PNG)
(2) pages of 2 postcards – fully colored (PDF)
(2) pages of 2 postcards – fully colored (JPG)
Images of all 4 individual postcards – fully colored (PNG)
Postcard back in PDF, JPG, and PNG
PSD files
Private Label Rights!
These postcards come with a traditional back that will allow you to have them printed if you so choose. Plus, we've included PSD files so you can alter them as desired. There are limitless possibilities with how you chose to use your postcards – and they don't have to be used as postcards. Get creative!
Use the black & white images as colorable images in your journals, or low content packages
Use the colored images as illustrations in your projects
Upload the PNGS to your favorite printing service and have physical postcards shipped to you – resell if desired
Create a challenge with your tribe to color and send a card to someone each month – offer prizes or kudos when they do so
Send physical postcards snail mail to your best customers, or to new customers
Sell them on your site, or etsy, etc
This month's kindness thoughts:
There is only one YOU and YOU are important.
You are worthy.
You are enough.
You are loved.
New Cards Released 3rd Thursday Each Month
Subscribe Now! Cancel Anytime. 

August's Designs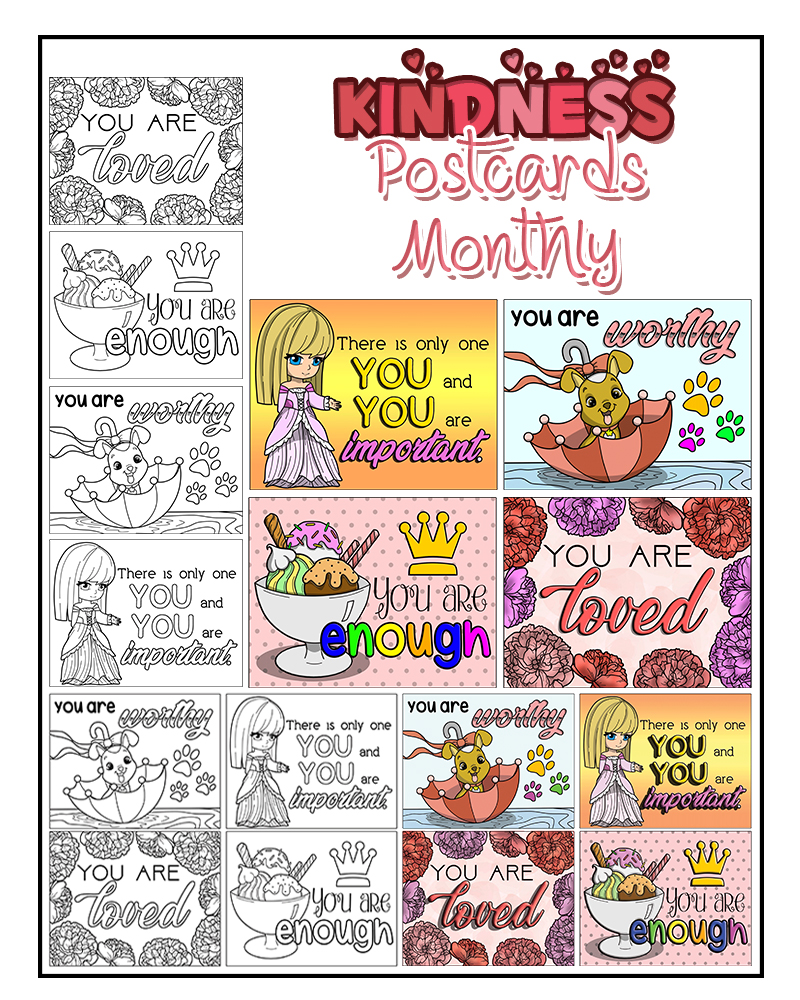 $7 $5 Per Month


Don't Want to Subscribe?
We get it. Subscriptions are scary. But here's the thing: you can totally cancel at anytime, and if you're using Paypal, you don't even need to tell us about it. Just go into your own Paypal account and cancel anytime you desire. Or ask us to do it. We're cool like that. But if you're still a "heck no" to a monthly product, and you really love these cards, please feel free to purchase the packages that light you up below.
Oh, and if you're a Kindness Postcards Monthly subscriber and want to get some back issues from before you joined, please use coupon code BACKS for 50% off. (It only works if you're a current subscriber.)