Adult Coloring Designs Offered With Private Label Rights!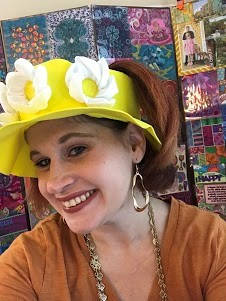 Rayven Monique here with my newest package of coloring designs for adults with PLR rights – Amazing Affirmations – Living Purposefully Coloring Pages.
I'd love your partnership in sharing this offer with others!
50% Commission 
Your Affiliate Link:
https://colormonthly.com/order/aff/go/USERNAME?i=22
Replace USERNAME with your username.
(Not an affiliate yet? Sign up here: Color Monthly PLR Affiliate Program)
20 Designs For Only $30!
Want a coupon code for your customers? Contact me.
This Bundle Includes The Following Beautifully Illustrated Affirmations:
I Observe My Thoughts And Actions Without Judging Them
I Participate Fully In All My Relationships
I Make Even Everyday Events Memorable, Happy Occasions
I Accept And Embrace All Experiences, Even Unpleasant Ones
I Am At Peace With My Past, Present, And Future
I Have A Profound Impact On This World
I Choose To Live An Inspired Life
A New Sense Of Purpose Infuses My Being
I Believe In My Ability To Change The World With What I Do
I Make A Profound Difference In This World
I Am A Gift To This World
My Enthusiasm About My Life Is Contagious
My Intuition And Wisdom Guide Me In The Right Direction
I Draw From My Inner Strength And Light
I Live In The Present And Am Confident Of The Future
As I Live My True Purpose, Joy And Contentment Fill My Life
I Build My Life's Foundation And Choose It's Contents
I Rest Peacefully And Soundly, Knowing All Is Well In My World
I Am Focused And Engaged In The Current Task
I Choose Not To Compare Myself With Others Because We Are All Different
Coloring elements hand-designed by professionals.

All files come in PDF and JPG 

PLUS You Get Private Label Rights!
20 Designs For Only $17!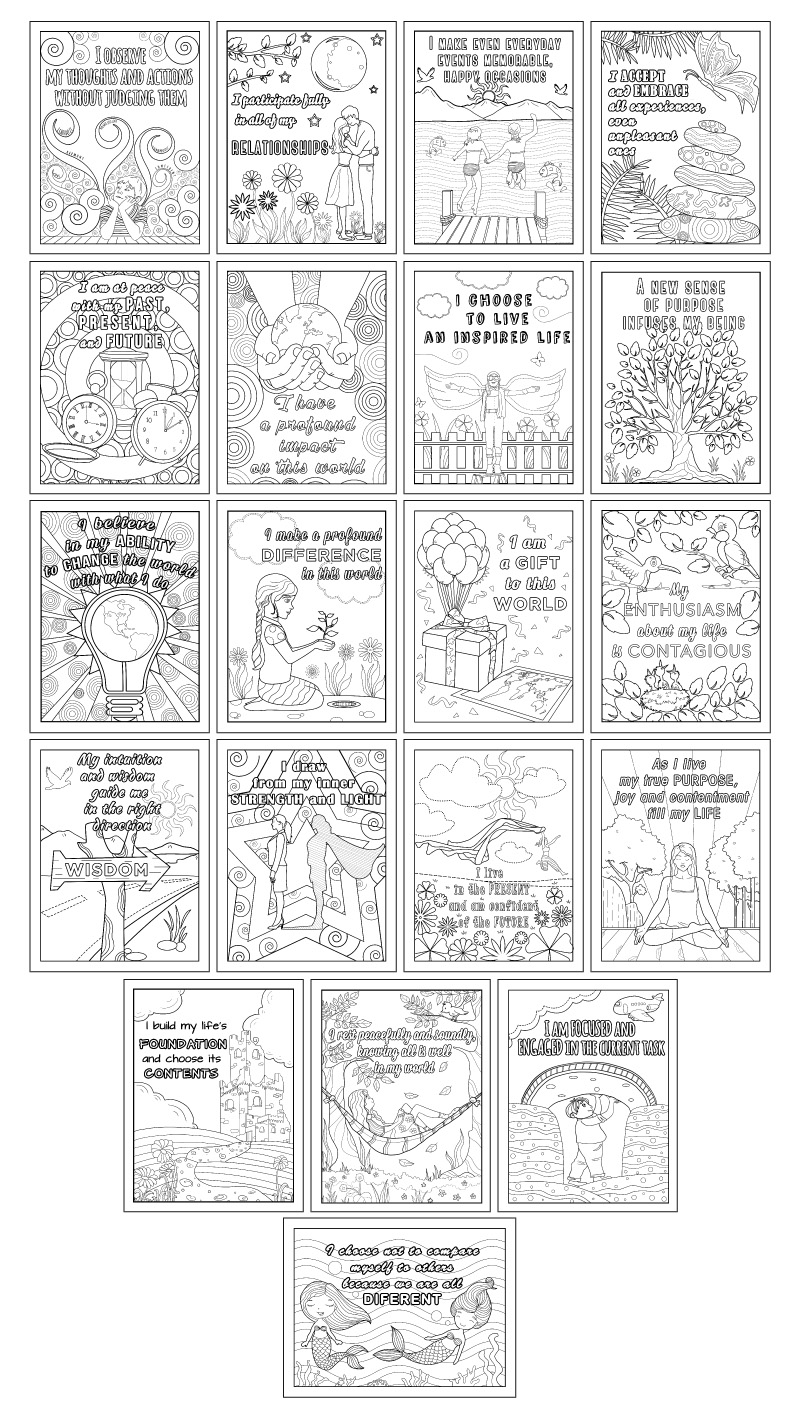 Ideas on How to Use This Package:
Create your own monthly coloring membership
Add to journals, planners, and other low content offerings
Use as part of a coaching program
Allow customers at restaurants, group homes, schools to use
Provide as opt-in freebie
Email Swipe #1: 
Subject: Living Purposefully
BODY:
Have you ever driven somewhere, gotten there and been like 'wow, I don't remember that drive?' It's pretty common, especially if you have a daily commute to an office job or drive the same route frequently for whatever reason.
I'd like to challenge you to take that same drive. Except this time do it purposefully and with intention. Shut your cell phone off, shut the radio off and just be present. Pay attention to your surroundings – notice anything different or that you haven't before? I bet you'll notice a whole lot of "new" things!
So, what does driving have anything to do with this email? Technically nothing. But being purposeful and present does. Just as I used the example above, think about all the things you're doing but without being purposeful or present in the moment – spending time with family, friends… the list goes on.
I don't know about you, but sometimes I need to remind myself to live my life more purposefully. That's why I'm excited about a new package just released by my friend Rayven – Amazing Affirmations: Living Purposefully.
You will find affirmations like:
·       I participate fully in all of my relationships
·       I believe in my ability to change the world with what I do
·       My enthusiasm about my life is contagious
·       I build my life's foundation and choose its contents
·       I rest peacefully and soundly, knowing all is well in my world
·       …and so many more!
That is just a small sampling of the affirmation messages you will find in this package of coloring pages with PLR rights. You get a total of 20 affirmation pages!
It's a great way to start each day – with a reminder to live purposefully and to be present in all you do.
So, what are you waiting for? Pick up your affirmations here: YOUR LINK
Use coupon code LIVING at checkout to get 20 designs for just $17!
Your Sign Off
P.S. This package comes with private label rights so you can use them in your business too, not just for personal use!
Use coupon code LIVING at checkout to get 20 designs for just $17!
Email Swipe #2: 
Subject:Be Careful What You Wish For…
BODY:
How many times have you caught yourself saying (or just thinking) "I wish…"
Well, be careful what you wish for! Our minds are powerful tools and what we tend to focus on, wish for, etc. often comes about!
That's why affirmations, vision boards, etc. are so popular… and effective!
But if you're tired of the same old boring affirmations, I have a really cool resource for you.
My friend Rayven from Color Monthly has just released a package of 20 coloring pages with affirmations on them. This package is all about Living Purposefully.
You will find coloring pages with affirmations like:
·       As I live my true purpose, joy and contentment fill my life
·       I choose not to compare myself to others because we are all different
·       I draw from my inner strength and light
·       A new sense of purpose infuses my being
·       I choose to live an inspired life
·       …and many more!
I picked up this package already and I'm telling you these affirmations are effective, meaningful and powerful!
Get all the details here: YOUR LINK
Use coupon code LIVING at checkout to save $13!
Want to use the package in your biz? Not a problem, it comes with PLR rights! Here are just a few ideas to get you started:
·       Choose your favorite pages and create an optin for your website.
·       Create a printable planner and journal with inspirational coloring pages and sell it on your website.
·       Send one of these beautiful pages as a downloadable thank you gift as a PS in your newsletter each week.
There are so many things you could do with the affirmation pages! You're only limited by your imagination.
Grab your copy today: YOUR LINK
Use coupon code LIVING at checkout to save $13!
You sign off
P.S. All the hard work has been done for you. All you have to do is brand, sell as your own and profit!
Email Swipe #3: 
Subject: The Fun Way to Get Rid of Stinkin' Thinkin'
BODY:
Each day is a brand new beginning. A clean slate where you can rewrite your story. A new day to choose to live happy, joyous, and a fulfilling life!
But if you're used to living in a constant state of negativity and stinkin' thinkin', it's going to take some work on your part. I know, I know… the word work isn't so fun.
But what if I told you there was a fun way to stop the stinkin' thinkin' and choose to create a more positive repertoire in your head? A positive way to focus on living a more purposeful and fulfilling life?
I'm happy to tell you that there is a fun way to do this!
And it's all because of Rayven and her Amazing Affirmations: Live Purposefully PLR package of coloring pages! This package comes with 20 fun and fabulous pages to color…all the while focusing on positive affirmations like:
·       I make a profound different in this world
·       I have a profound impact on this world
·       My intuition and wisdom guide me in the right direction
·       I accept and embrace all experiences, even unpleasant ones
·       I live in the present and am confident of the future
Those are just a handful of the 20 affirmations you'll get access to in the package. They are powerful, meaningful and effective!
This package is great for not only personal use but in business too. It could work well for a coach and something they could give their clients to work on, journal about, etc. It would also be the perfect addition to a vision board workshop. There's so much you can do with the package and so many different niches could utilize it!
So, what are you waiting for? Grab Daily Affirmations: Live Purposefully now: YOUR LINK
Use coupon code LIVING at checkout to get 20 designs for just $17!
Your Sign Off
Social Blurbs:  
These coloring page affirmations will help remind you to live your life purposefully. YOUR LINK
Want to work on living life more purposefully and being present? Check out this new package of coloring page affirmations with PLR Rights: YOUR LINK
A fun and unique way to focus on daily affirmations: YOUR LINK HERE
What Customers Can Do With These Designs:
DO: alter/rebrand entire page/elements of page as desired
DO: or, leave as-is!
DO: create merchandise with pages/elements of pages
DO: sell alone or as part of a membership
DO: offer as a bonus or resource for a paid product or membership
DO: print the pages and give away in person
DO: print the pages and sell them in person
DO: offer pages as opt-in resource
What Customers Can't Do:
DON'T: sell as a book on Amazon (against their TOS)
DON'T: publish pages for free on the web
DON'T: resell the rights to this package, or any elements within
In a nutshell, an individual must give their email address, or buy a product, service, or membership to be given these materials online – EVEN INDIVIDUAL ELEMENTS OF THE PAGES. This protects the value of this package for everyone!
(Offline no need for an email address – it's cool to hand them out.)