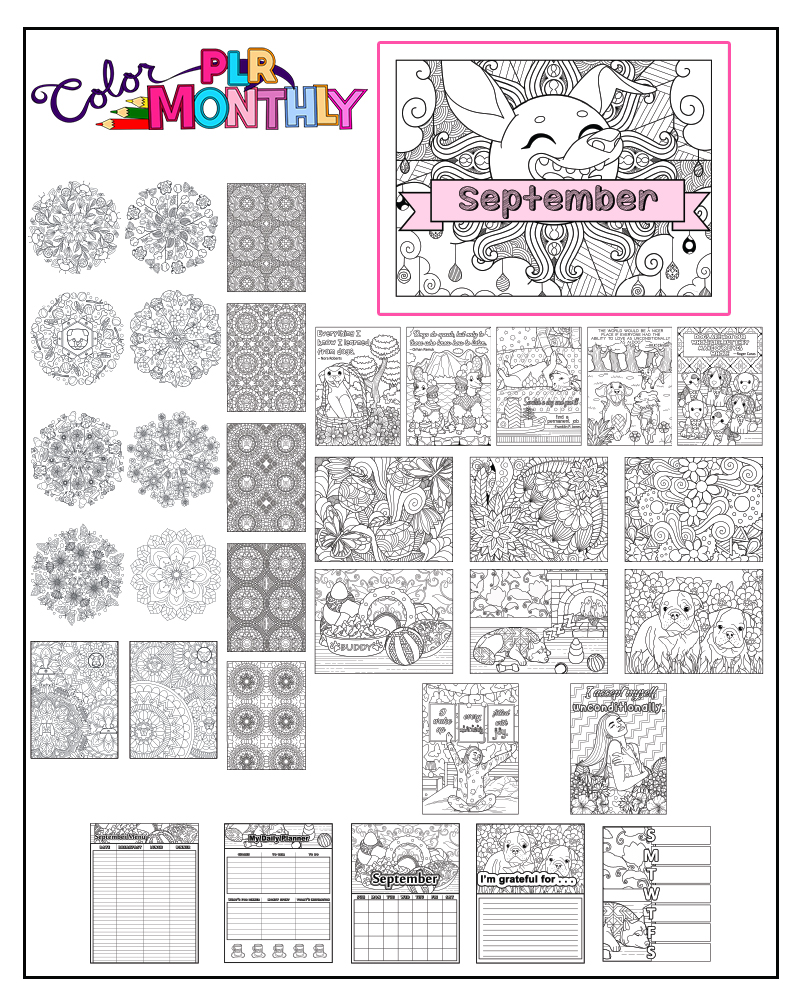 What If It Were Easy To Add Beautifully Designed Coloring Pages to Your Products, Memberships, Emails, or Coaching Program?
With Color Monthly PLR, it is easy! Enjoy PLR rights to this professionally designed coloring package.

A Total of 35 Custom Pages, with a Fall and Dog Themed, Including:
September Cover Page – Pup
Cover Page – Pup (no month name)
Doggy Accessories
Dog Snoozing Before a Fire
Pups in a Flower Meadow
September Calendar – Doggy Accessories
September Menu – Doggy Accessories
My Daily Planner – Doggy Accessories
Weekly Planner – Dog Snoozing Before a Fire
Gratitude Page – Pups in a Flower Meadow
Affirmation: I wake up every morning filled with joy.
Affirmation: I accept myself unconditionally.
Quote: Everything I know I learned from dogs. – Nora Roberts
Quote: Dogs do speak, but only to those who know how to listen. – Orhan Pamuk
Quote: Scratch a dog and you'll find a permanent job. – Franklin P. Jones
Quote: The world would be a nicer place if everyone had the ability to love as unconditionally as a dog. -MK Clinton
Quote: Dogs are not our whole life, but they make our lives whole. – Roger Caras
10 Mandalas
5 Pattern Pages
Zen Flower Doodle 1
Zen Flower Doodle 2
Zen Apples & Butterflies Doodle
All images in JPG and PDF format. The Planner Pages (Weekly Planner, Daily Planner, Menu Planner, Calendar and Gratitude Pages) also include editable PSDs.
Calendars do not have the 2020 date on them. They simply say "September".