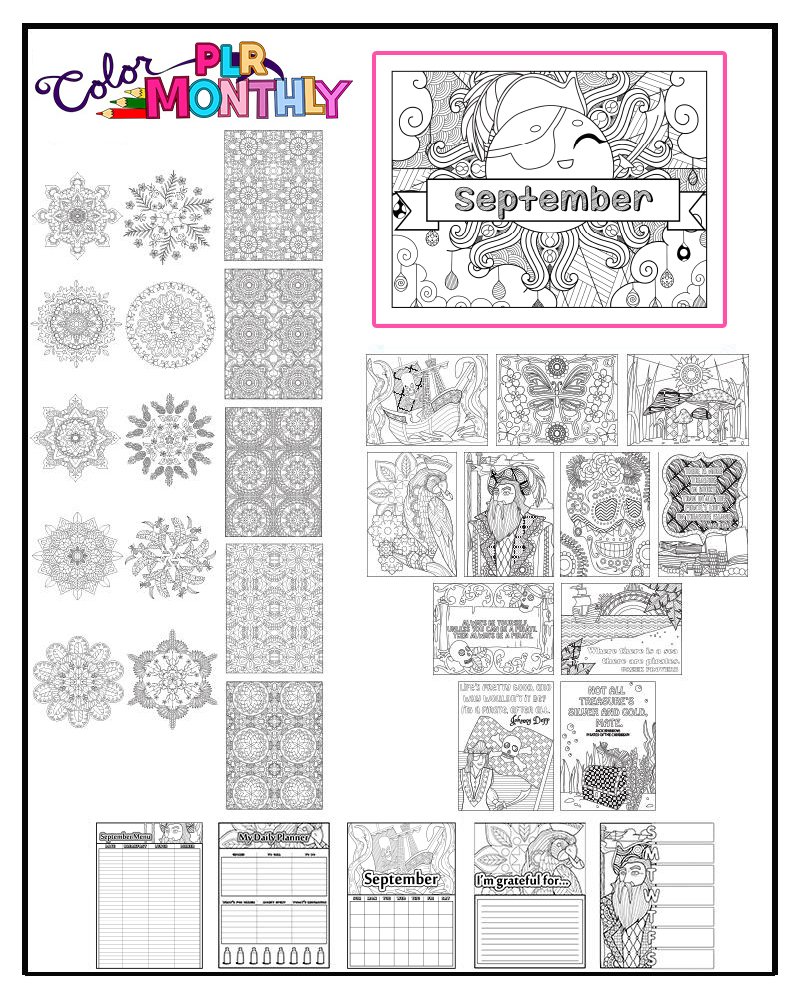 What If It Were Easy To Add Beautifully Designed Coloring Pages to Your Products, Memberships, Emails, or Coaching Program?
With Color Monthly PLR, it is easy! Enjoy PLR rights to this professionally designed coloring package.

A Total of 31 Custom Pages, with a Pirate Theme, Including:
September Cover Page + Duplicate Color Page with No "September"
(10) Unique Mandalas
(5) Patterned Pages
Psychedelic Butterfly
Mushrooms in the Sun
Sugar Skull
Pirate's Parot
Old Timey Pirate
Pirate Ship
"Always Be Yourself Unless You Can Be A Pirate"
"There Is More Treasure In Books Thank In All The Pirate's Loot On Treasure Island" – Walt Disney
"Where There Is A Sea, There Are Pirates" – Greek Proverb
"Life's Pretty Good, And Why Wouldn't It Be? I'm A Pirate, After All." – Johnny Depp
"Not All Treasure's Silver And Gold, Mate" – Jack Sparrow, Pirates of the Caribbean
 September Calendar with Pirate Ship
Gratitude Page with Pirate Parrot
Weekly Calendar with Old Timey Pirate
September Menu with Old Timey Pirate
Daily Planner with Pirate Parrot
All images in JPG and PDF format. The Planner Pages (Weekly Planner, Daily Planner, Menu Planner, Calendar and Gratitude Pages) also include editable PSDs.
Calendars do not have the 2019 date on them. They simply say "September".