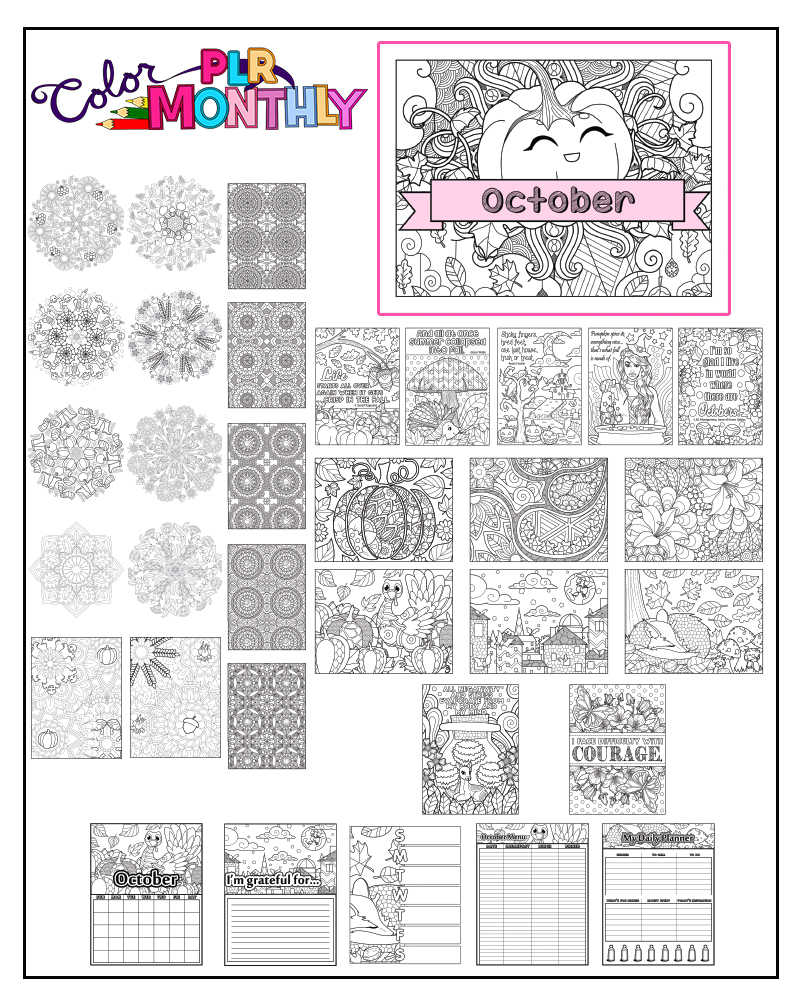 What If It Were Easy To Add Beautifully Designed Coloring Pages to Your Products, Memberships, Emails, or Coaching Program?
With Color Monthly PLR, it is easy! Enjoy PLR rights to this professionally designed coloring package.

A Total of 35 Custom Pages, with a Fall & Halloween Theme, Including:
October Cover Page + Duplicate Color Page with No "October"
(10) Unique Mandalas
(5) Patterned Pages
October Calendar with Turkey & Pumpkin
Gratitude Page with Witch in Moon
Weekly Calendar with Lazy Fox
October Menu with Feathered Turkey
Daily Planner with Lazy Fox
Feathered Turkey & Pumpkin
Witch in Moon Scene
Lazy Fox with Mushrooms
Affirmation: All the Negativity and Stress Evaporate From My Mind and My Body
Affirmation: I Face Difficulty With Courage.
Sectional Pumpkin
Zen Flower & Teardrop
Flowers
Life Starts All Over Again When It Gets Crisp In The Fall – F Scott Fitzgerald
And All At Once Summer Collapsed Into Fall – Oscar Wilde
Sticky Fingers, Tired Feet, One Last House, Trick or Treat – Rusty Fischer
Pumpkin Spice & Everything Nice…That's What Fall Is Made Of
I'm So Glad I Live In A World Where There Are Octobers – LM Montgomery
All images in JPG and PDF format. The Planner Pages (Weekly Planner, Daily Planner, Menu Planner, Calendar and Gratitude Pages) also include editable PSDs.
Calendars do not have the 2020 date on them. They simply say "OCTOBER".