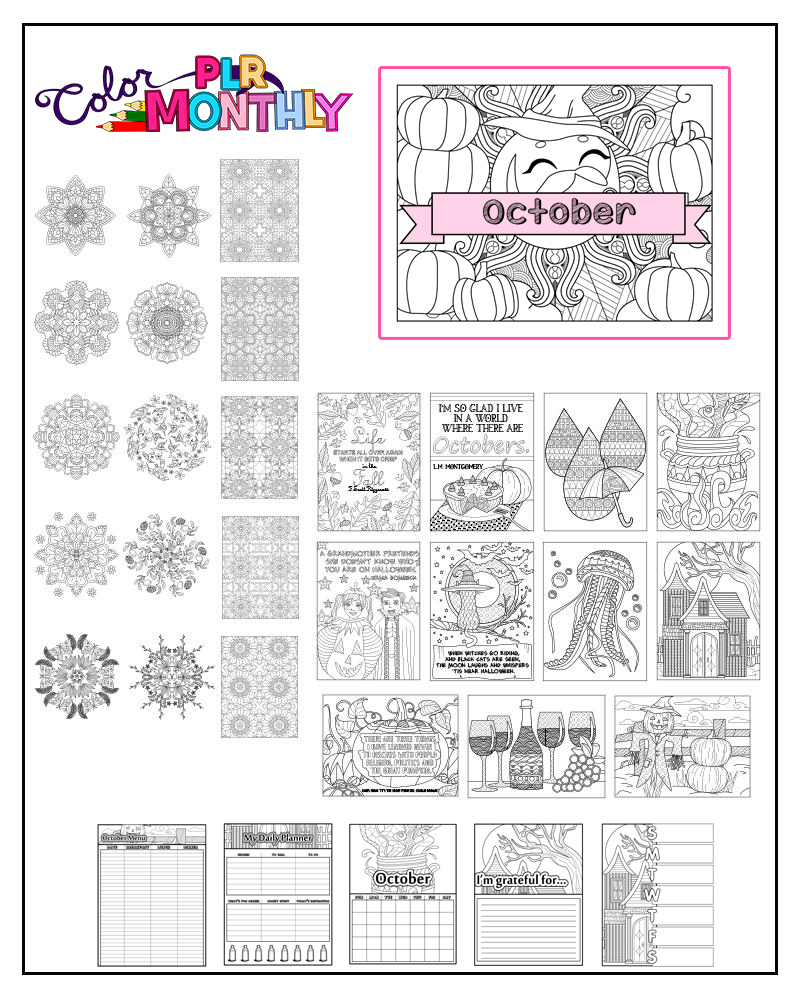 What If It Were Easy To Add Beautifully Designed Coloring Pages to Your Products, Memberships, Emails, or Coaching Program?
With Color Monthly PLR, it is easy! Enjoy PLR rights to this professionally designed coloring package.

A Total of 31 Custom Pages, with a Fall/Halloween Theme, Including:
October Cover Page + Duplicate Color Page with No "October"
(10) Unique Mandalas
(5) Patterned Pages
Witch's Cauldron
Scarecrow Jack-O'-Lantern
Wine Carafe and Glasses
Raindrops And Umbrella
Jellyfish
Haunted House
"A Grandmother Pretends She Doesn't Know Who You Are On Halloween." – Erma Bombeck
"There Are Three Things I have Learned Never To Discuss With People: Religion, Politics, And The Great Pumpkin." – Linus From "It's The Great Pumpkin, Charlie Brown"
"When Witches Go Riding, and Black Cats Are Seen, The Moon Laughs And Whispers 'Tis Near Halloween"
"Life Starts All Over Again When It Gets Crisp In The Fall" F Scott Fitzgerald
"I'm So Glad I Live In A World Where There Are Octobers." LM Montgomery
October Calendar with Cauldron
Gratitude Page with Haunted House
Weekly Calendar with Haunted House
October Menu with Scarecrow Jack-O'-Lantern
Daily Planner with Haunted House
All images in JPG and PDF format. The Planner Pages (Weekly Planner, Daily Planner, Menu Planner, Calendar and Gratitude Pages) also include editable PSDs.
Calendars do not have the 2019 date on them. They simply say "October".