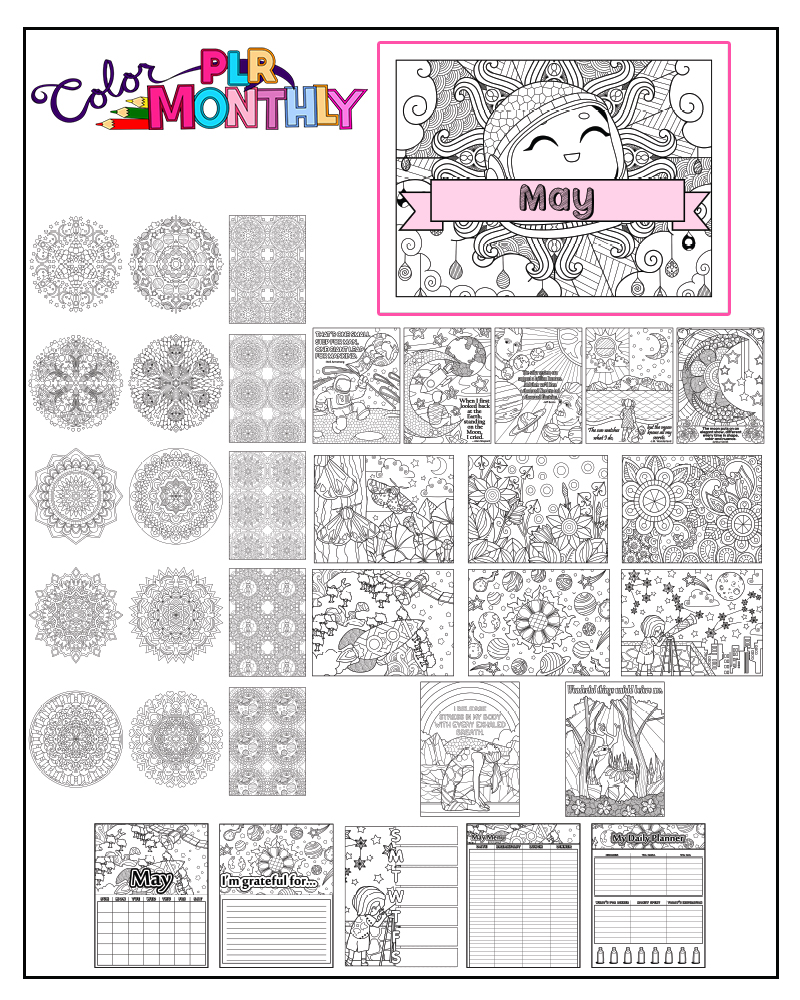 What If It Were Easy To Add Beautifully Designed Coloring Pages to Your Products, Memberships, Emails, or Coaching Program?
With Color Monthly PLR, it is easy! Enjoy PLR rights to this professionally designed coloring package.

A Total of 35 Custom Pages, with a Space (Outer Space) Theme, Including:
May Cover Page + Duplicate Color Page with No "May"
(10) Unique Mandalas
(5) Patterned Pages
Rocketship and Satellite
Flaming Sun and Planets
A Boy With Telescope and Moon
Butterflies and Flowers
Spades and Flowers
Flowers in Garden
That's one small step for a man, one giant leap for mankind. -Neil Armstrong
When I first looked back at the Earth, standing on the Moon, I cried. – Alan Shepard
The solar system can support a trillion humans. And then we'd have a thousand Mozart's and a thousand Einstein's. -Jeff Bezos
The sun watches what I do, but the moon knows all my secrets. -J.M. Wonderland
The moon puts on an elegant show, different every time in shape, color and nuance. -Arthur Smith
May Calendar Outer Space
Gratitude Page with Flaming Sun and Planets
Weekly Calendar with Boy and Telescope
May Menu with Rocket Ship and Satellite
Daily Planner with Flaming Sun and Planets
Affirmation: I release stress in my body with every exhaled breath.
Affirmation: Wonderful things unfold before me.
All images in JPG and PDF format. The Planner Pages (Weekly Planner, Daily Planner, Menu Planner, Calendar and Gratitude Pages) also include editable PSDs.
Calendars do not have the 2021 date on them. They simply say "May".