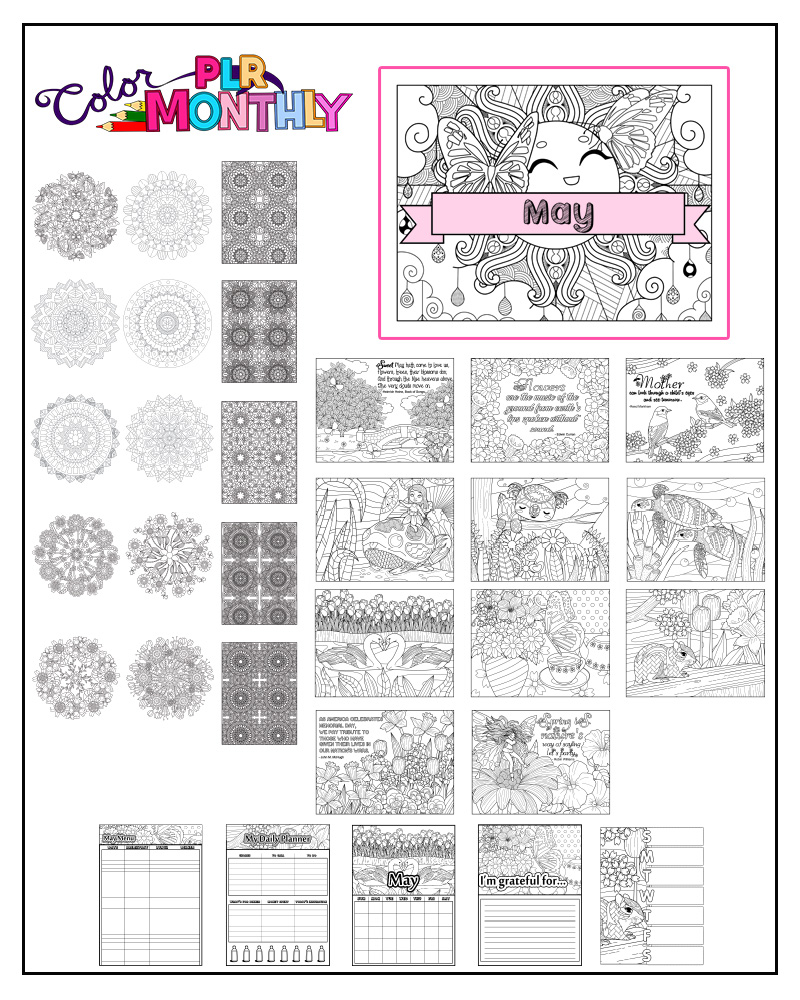 What If It Were Easy To Add Beautifully Designed Coloring Pages to Your Products, Memberships, Emails, or Coaching Program?
With Color Monthly PLR, it is easy! Enjoy PLR rights to this professionally designed coloring package.

A Total of 31 Custom Pages, Including:
May Cover Page
(10) Unique Mandalas
(5) Patterned Pages
"Mother can look through a child's eyes and see tomorrow" Mother's Day Quote
"Spring is nature's way of saying let's party" Flowers and Fairy Themed Quote
"As America celebrates Memorial Day, we pay tribute to those who have given their lives in our nation's wars" Flowers Themed Quote
"Sweet May hath come to love us, Flowers, trees, their blossoms don; And through the blue heavens above The very clouds move on" Bridge & Water Scene Themed Quote
"Flowers are the music of the ground from earth's lips spoken without sound" Flower Themed Quote
Swans and Roses
Butterfly Tea Party
Guinea Pig with Flowers
Koala In Tree
Sea Turtles Swimming
Fairy On Bullfrog
Butterfly Tea Party Themed Gratitude Page
Swans Themed May Blank Calendar
Guinea Pig with Flowers Themed May Menu Planner
Butterfly Themed Weekly Planner
Flowers Themed My Daily Planner
All images in JPG and PDF format. The Planner Pages (Weekly Planner, Daily Planner, Menu Planner, Calendar and Gratitude Pages) also include editable PSDs.
Calendars do not have the 2019 date on them. They simply say "May".