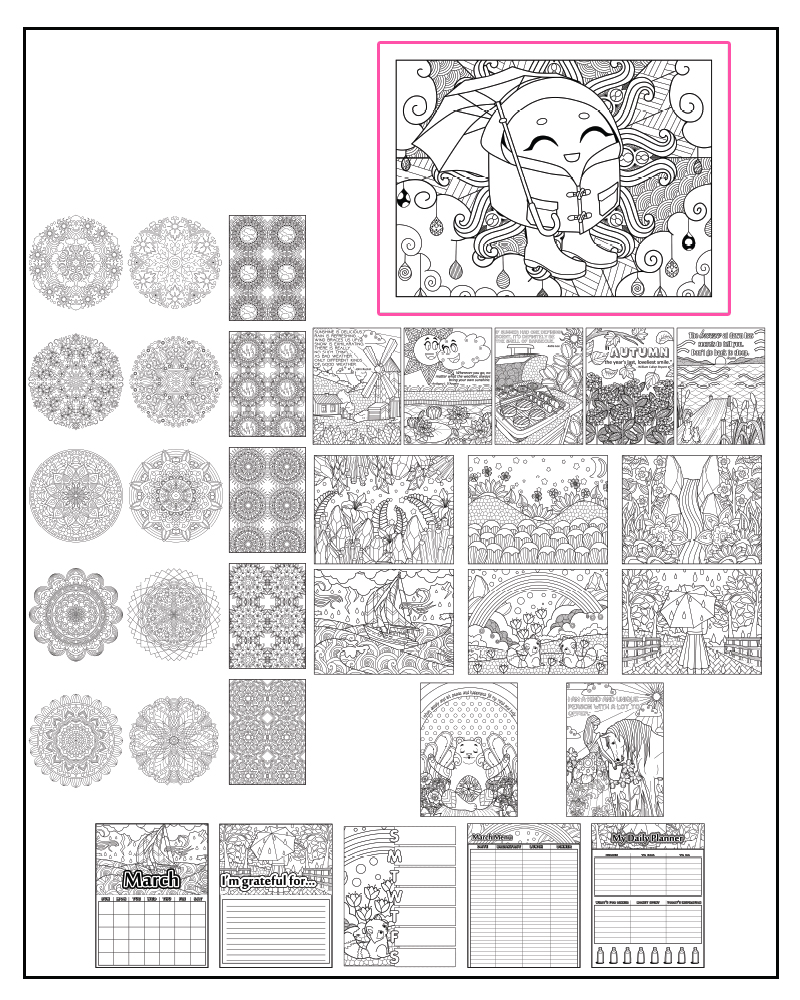 What If It Were Easy To Add Beautifully Designed Coloring Pages to Your Products, Memberships, Emails, or Coaching Program?
With Color Monthly PLR, it is easy! Enjoy PLR rights to this professionally designed coloring package.

A Total of 35 Custom Pages, with a Weather Theme, Including:
March Cover Page + Duplicate Color Page with No "March"
(10) Unique Mandalas
(5) Patterned Pages
Sunshine is delicious, rain is refreshing, wind braces us up, snow is exhilarating; there is really no such thing as bad weather, only different kinds of good weather. -John Ruskin
Wherever you go, no matter what the weather, always bring your own sunshine. -Anthony J. D'Angelo
If summer had one defining scent, it'd definitely be the smell of barbecue. -Katie Lee
"Autumn… the year's last, loveliest smile." – William Cullen Bryant
March Calendar with Sailboat and waves
Gratitude Page with Umbrella Girl
Weekly Calendar with Baby Raccoon
Daily Planner with Umbrella Girl
Raccoons and Rainbow
Umbrella Girl
Sailboat and Waves
Starry Night and Flowers
Flowers and Fall
Garden and Stars
Affirmations:  I inhale deeply and let peace and happiness fill my mind and body.
Affirmations: I am a kind and unique person with a lot to offer.
All images in JPG and PDF format. The Planner Pages (Weekly Planner, Daily Planner, Menu Planner, Calendar and Gratitude Pages) also include editable PSDs.
Calendars do not have the 2021 date on them. They simply say "March".