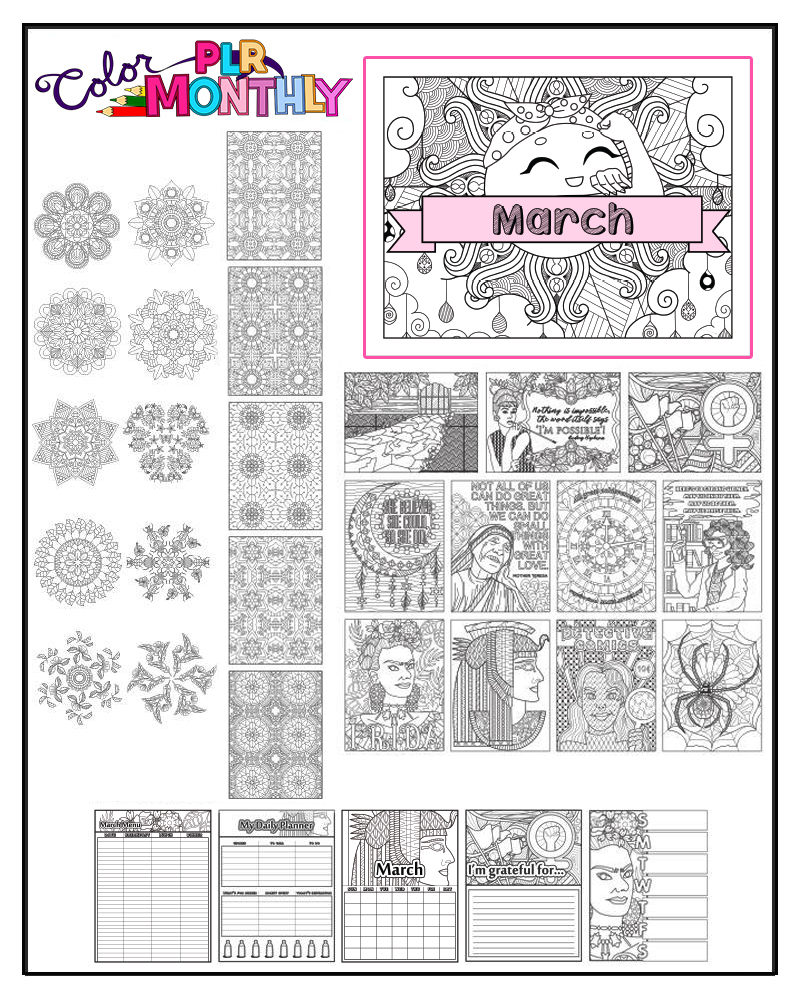 What If It Were Easy To Add Beautifully Designed Coloring Pages to Your Products, Memberships, Emails, or Coaching Program?
With Color Monthly PLR, it is easy! Enjoy PLR rights to this professionally designed coloring package.

This Bundle Includes The Following Beautifully Illustrated March Themed Coloring Pages. A Total of 31 Custom Pages, with Inspirational Women Theme, Including:
March Cover Page + Duplicate Color Page with No "March"
(10) Unique Mandalas
(5) Patterned Images
Frida
Cleopatra
Women's Empowerment
"I Am Optimistic About The Future" – Affirmation
"I Am Surrounded By Love" – Affirmation
Woman Detective Comic Book Cover
Garden Path & Gate
Black Widow Spider & Mandala Web
Cleopatra Daily Planner
"Nothing is Impossible, the Word Itself Says 'I'm Possible'" – Audrey Hepburn
"She Believed She Could So She Did"
"Not All Of Us Can Do Great Things, But We Can Do Small Things With Great Love." Mother Teresa
"All Great Achievements Require Time" – Maya Angelou
"Here's to Strong Women. May We Know Them. May We Be Them. May We Raise Them."
Frida Weekly Planner
Cleopatra March Calendar
Women's Empowerment Gratitude Journal Page
Flowery March Menu Page
All images in JPG and PDF format. The Planner Pages (Weekly Planner, Daily Planner, Menu Planner, Calendar and Gratitude Pages) also include editable PSDs.
Calendars do not have the 2020 date on them. They simply say "March".