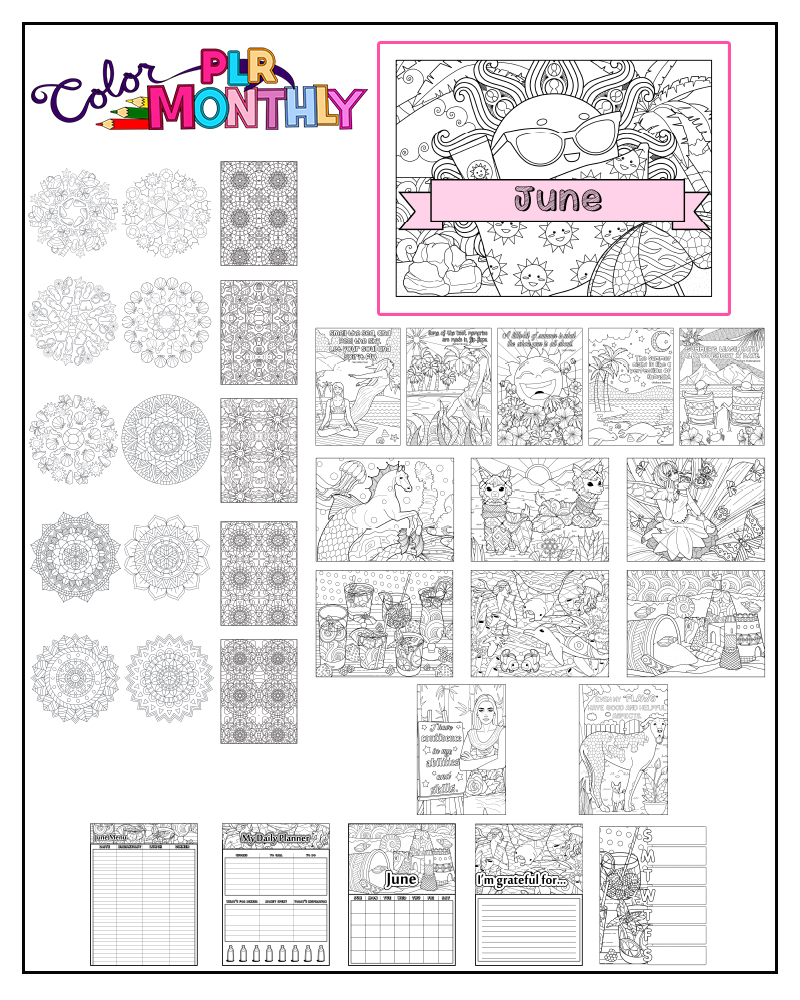 What If It Were Easy To Add Beautifully Designed Coloring Pages to Your Products, Memberships, Emails, or Coaching Program?
With Color Monthly PLR, it is easy! Enjoy PLR rights to this professionally designed coloring package.

A Total of 33 Gorgeous Pages, with an Summer Theme, Including:
June Cover Page
(10) Unique Mandalas
(5) Patterned Pages
June Calendar with Sandcastles and Waves
Gratitude Page with Diver with Sea Creatures
Weekly Calendar with Summer Cocktails
June Menu with Summer Cocktails
Daily Planner with Diver with Sea Creatures
Diver with Sea Creatures
Sandcastles and Waves
Summer Cocktails
"I Have Confidence In My Abilities And Skills"
"Even My Flaws Have Good And Helpful Aspects"
Fairy and Butterflies
Water Horse
Fluffy Lambs In Clothes
"Smell The Sea, And Feel The Sky. Let Your Soul And Spirit Fly" Van Morrison
"Some Of The Best Memories Are Made In Flip Flops" Kellie Elmore
"A Little Bit Of Summer Is What The Whole Year Is All About" John Mayer
"The Summer Night Is Like A Perfection Of Thought" Wallace Stevens
"Summer's Lease Hath All Too Short A Date" William Shakespeare
All images in JPG and PDF format. The Planner Pages (Weekly Planner, Daily Planner, Menu Planner, Calendar and Gratitude Pages) also include editable PSDs.
Calendars do not have the 2020 date on them. They simply say "June".