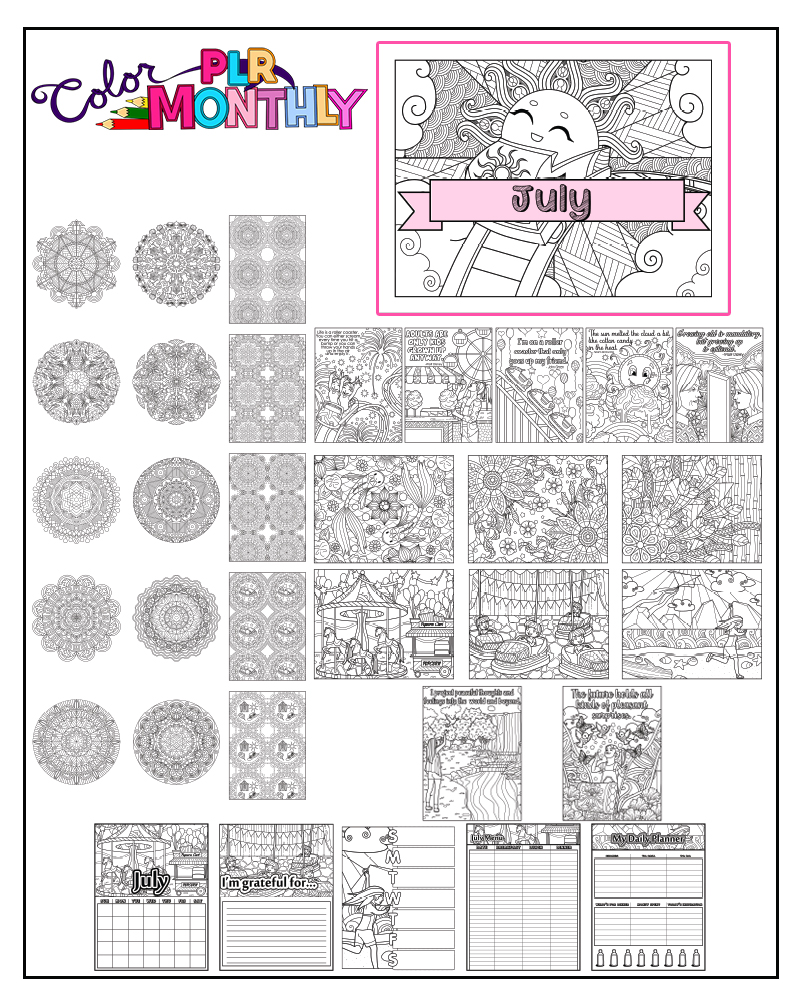 What If It Were Easy To Add Beautifully Designed Coloring Pages to Your Products, Memberships, Emails, or Coaching Program?
With Color Monthly PLR, it is easy! Enjoy PLR rights to this professionally designed coloring package.

A Total of 35 Custom Pages, with a Space (Outer Space) Theme, Including:
July Cover Page + Duplicate Color Page with No "July"
(10) Unique Mandalas
(5) Patterned Pages
July Calendar Tracker with Carousel and Popcorn Stand
Life is a roller coaster. You can either scream every time you hit a bump or you can throw your hands up in the air and enjoy it. -Unknown
Adults are only kids grown up anyway. -Walt Disney
I'm on a roller coaster that only goes up my friend. -Unknown
The sun melted the cloud a bit, like cotton candy in the heat. -Unknown
Growing old is mandatory, but growing up is optional. -Walt Disney
July Calendar with Carousel and Popcorn Stand
Gratitude Page with Bumper Cars
Weekly Calendar with Girl flying a kite
Coy Fish
Flowers and Bamboo
Stars and Flowers
July Menu with Carousel
Carousel and Popcorn Stand
Bumper Cars
Girl flying a kite
Daily Planner with a Girl flying a kite
Affirmation: I project peaceful thoughts and feelings into the world and beyond.
Affirmation: The future holds all kinds of pleasant surprises.
All images in JPG and PDF format. The Planner Pages (Weekly Planner, Daily Planner, Menu Planner, Calendar and Gratitude Pages) also include editable PSDs.
Calendars do not have the 2021 date on them. They simply say "July".