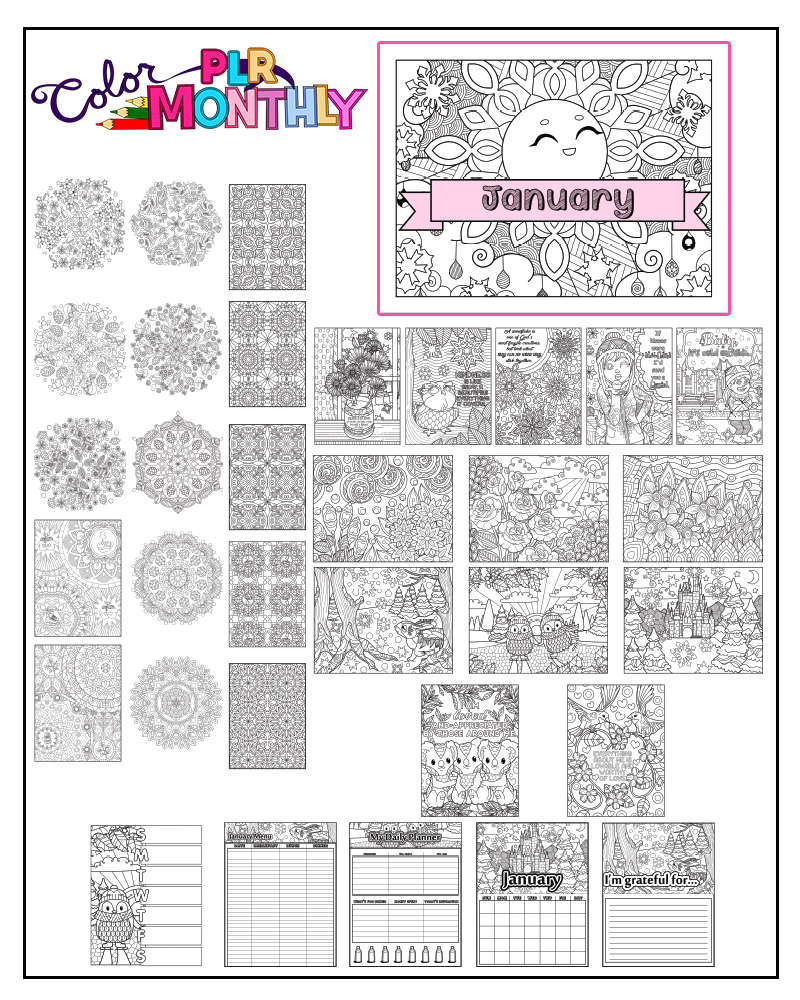 What If It Were Easy To Add Beautifully Designed Coloring Pages to Your Products, Memberships, Emails, or Coaching Program?
With Color Monthly PLR, it is easy! Enjoy PLR rights to this professionally designed coloring package.

A Total of 35 Gorgeous Pages, with a Winter Wonderland Themed, Including:
January Cover Page + Duplicate Color Page with No "January"
(10) Unique Mandalas
(5) Patterned Pages
Sunshine and Roses
Blooming Flowers
Full-blown Flowers
If kisses were snowflakes, I'd send you a blizzard. -Unknown
Baby, it's cold outside.

 

Stillness is the flower of winter, all hope waits beneath a blanket of white.
Kindness is like snow. It beautifies everything it covers.
A snowflake is one of God's most fragile creations, but look what they can do when they stick together. -Unknown
January Menu with Rabbit and Snowflake
January Calendar with Winter Castle
2 Skier Penguins
Rabbit and Snowflake
Gratitude Page with Rabbit and Snowflake
Weekly Calendar with Skier Penguin

 

Winter Castle
Daily Planner with 2 Skier Penguins
Affirmations: I am loved and appreciated by those around me.
Affirmations: Everything about me is lovable and worthy of love.
All images in JPG and PDF format. The Planner Pages (Weekly Planner, Daily Planner, Menu Planner, Calendar and Gratitude Pages) also include editable PSDs.
Calendars do not have the 2021 date on them. They simply say "January".