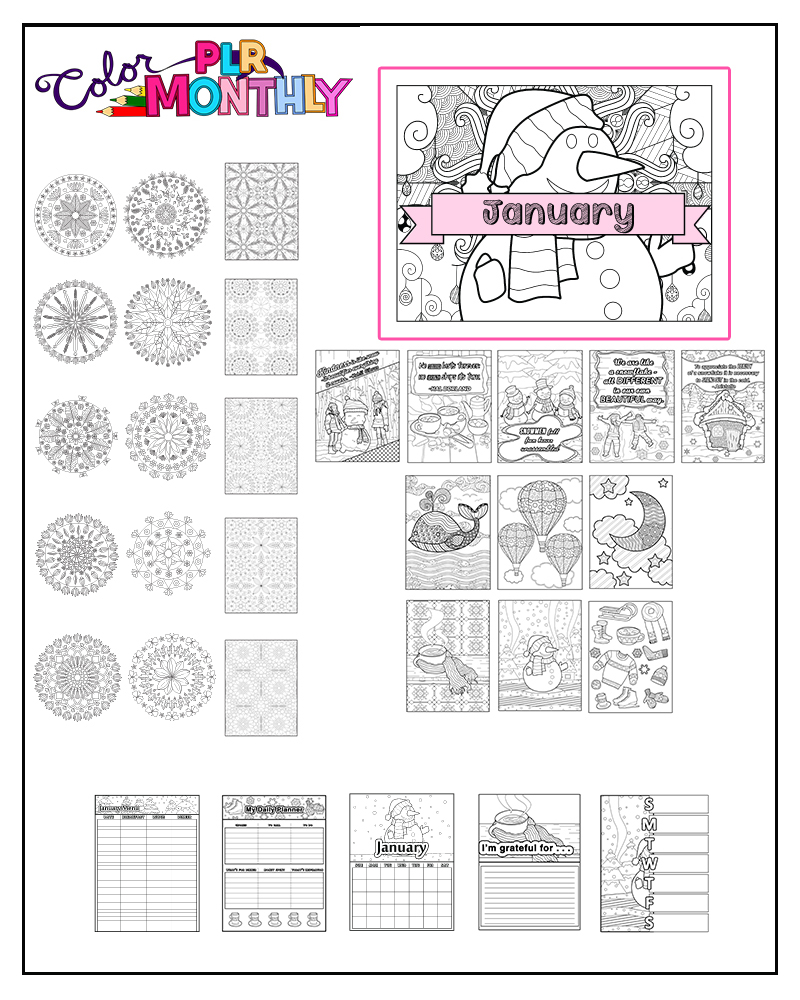 What If It Were Easy To Add Beautifully Designed Coloring Pages to Your Products, Memberships, Emails, or Coaching Program?
With Color Monthly PLR, it is easy! Enjoy PLR rights to this professionally designed coloring package.

This Bundle Includes The Following Beautifully Illustrated January Themed Coloring Pages. A Total of 31 Custom Pages, with a Winter Theme, Including:
January Cover Page + Duplicate Color Page with No "January"
(10) Unique Mandalas
(5) Patterned Pages
Hot Air Balloons
Moon And Stars
Whale In Ocean
Hot Chocolate With Scarf
Snowman Winter Wonderland
Winter Clothing Collage
"Kindness is like snow – it beautifies everything it covers." – Kahlil Gibran
"No winter lasts forever; no spring skips it's turn." – Hal Borland
Snowmen Fall from Heaven Unassembled
We Are Like A Snowflake – All Different In Our Own Beautiful Way
"To Appreciate the Beauty of a Snowflake it is Necessary to Stand Out in the Cold" – Aristotle
January Calendar with Snowman
Gratitude Page with Hot Chocolate
Weekly Calendar with Winter Wonderland
January Menu with Winter Wonderland
Daily Planner with Winter Clothing
Affirmation: I grow more confident and stronger each day
Affirmation: I love everything about my body.
All images in JPG and PDF format. The Planner Pages (Weekly Planner, Daily Planner, Menu Planner, Calendar and Gratitude Pages) also include editable PSDs.
Calendars do not have the 2020 date on them. They simply say "January".