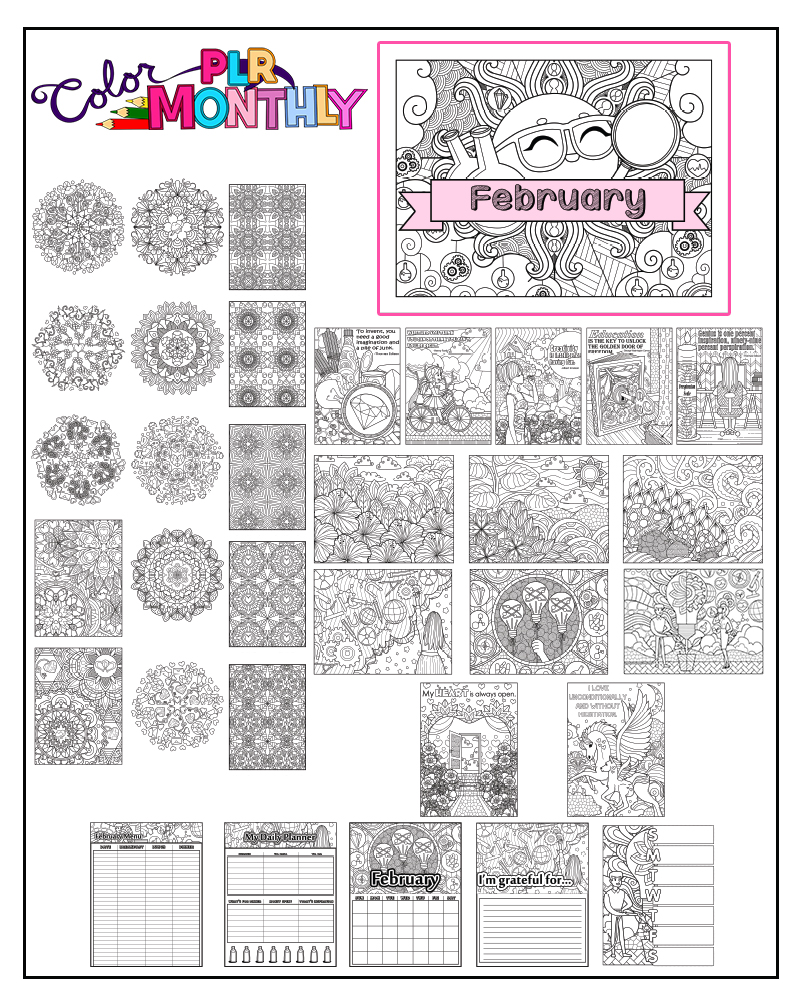 What If It Were Easy To Add Beautifully Designed Coloring Pages to Your Products, Memberships, Emails, or Coaching Program?
With Color Monthly PLR, it is easy! Enjoy PLR rights to this professionally designed coloring package.

A Total of 35 Custom Pages, with an Inventors and Inventions Theme, Including:
February Cover Page + Duplicate Color Page with No "February"
(10) Unique Mandalas
(5) Patterned Pages
Education is the key to unlock the golden door of freedom. – George Washington Carver
Genius is one percent inspiration, ninety-nine percent perspiration. – Thomas Edison
To invent, you need a good imagination and a pile of junk. -Thomas Edison
Whether you think you can or think you can't, you're right. -Henry Ford
Creativity is intelligence having fun. -Albert Einstein
February Menu with Mr. and Ms. Inventor
February Calendar with Lightbulb
Gratitude Page with Girl Inventor
Weekly Calendar with Mr. Inventor
Daily Planner with Girl Inventor
Lightbulb Balloons
Girl Inventor
Mr. and Ms. Inventor
Sunny Day
Mushrooms
Enormous Botanical Garden
Affirmations: My heart is always open.
Affirmations: I love unconditionally and without hesitation.
All images in JPG and PDF format. The Planner Pages (Weekly Planner, Daily Planner, Menu Planner, Calendar and Gratitude Pages) also include editable PSDs.
Calendars do not have the 2021 date on them. They simply say "February".