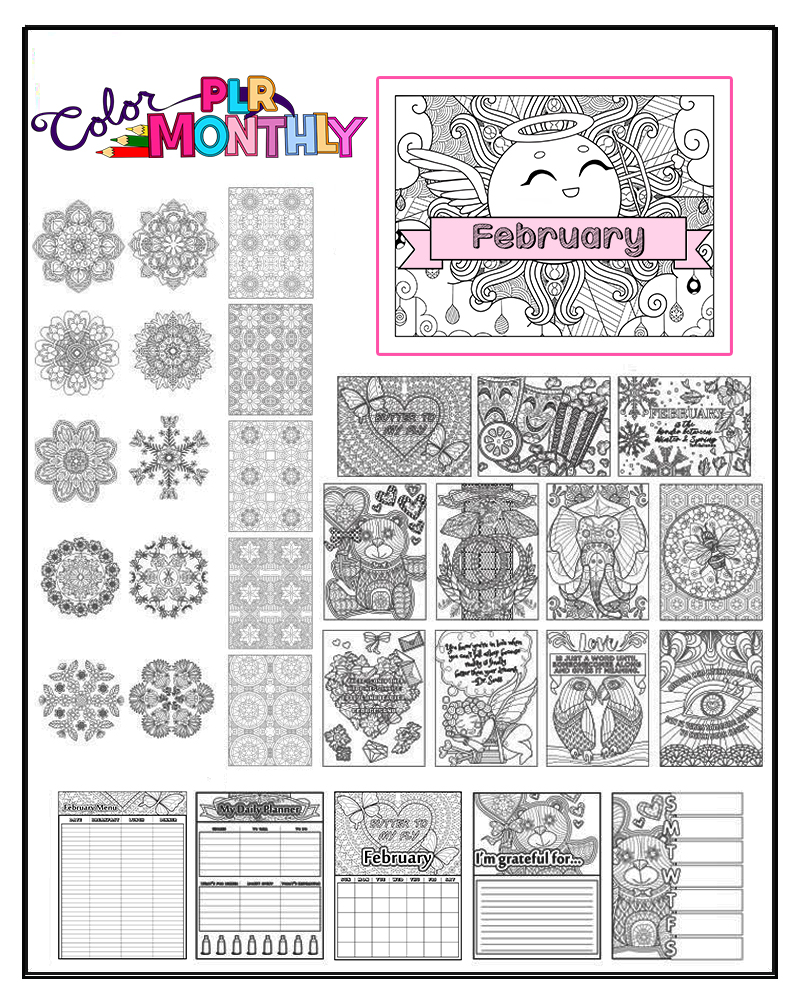 What If It Were Easy To Add Beautifully Designed Coloring Pages to Your Products, Memberships, Emails, or Coaching Program?
With Color Monthly PLR, it is easy! Enjoy PLR rights to this professionally designed coloring package.

This Bundle Includes The Following Beautifully Illustrated February Themed Coloring Pages. A Total of 35 Custom Pages, with a Love Theme, Including:
February Cover Page + Duplicate Color Page with No "February"
(10) Unique Mandalas
(5) Patterned Images
Teddy Bear
Gems, Jewels and Flowers.
Butter to My Fly
I am worth of happiness and love.
I am BOLD and COURAGEOUS.
Bumble Bee.
A Day at the Movies.
Wise Elephant.
Blooming Petals.
Six Flowers Blooming
Whimsical Petals
Decorative Florals
Together Forevet
February is the border between WInter and Spring. – Terri Guillemets
Anyone can catch your eye, but it takes someone special to catch your heart.
Is just a word until someone comes along and gives it meaning.
You know you're in love when you can't fall asleep because reality is finally better that your dreams. – Dr. Seuss
There is only one happiness in life: To Love and Be Loved. – George Sand
All images in JPG and PDF format. The Planner Pages (Weekly Planner, Daily Planner, Menu Planner, Calendar and Gratitude Pages) also include editable PSDs.
Calendars do not have the 2020 date on them. They simply say "February".