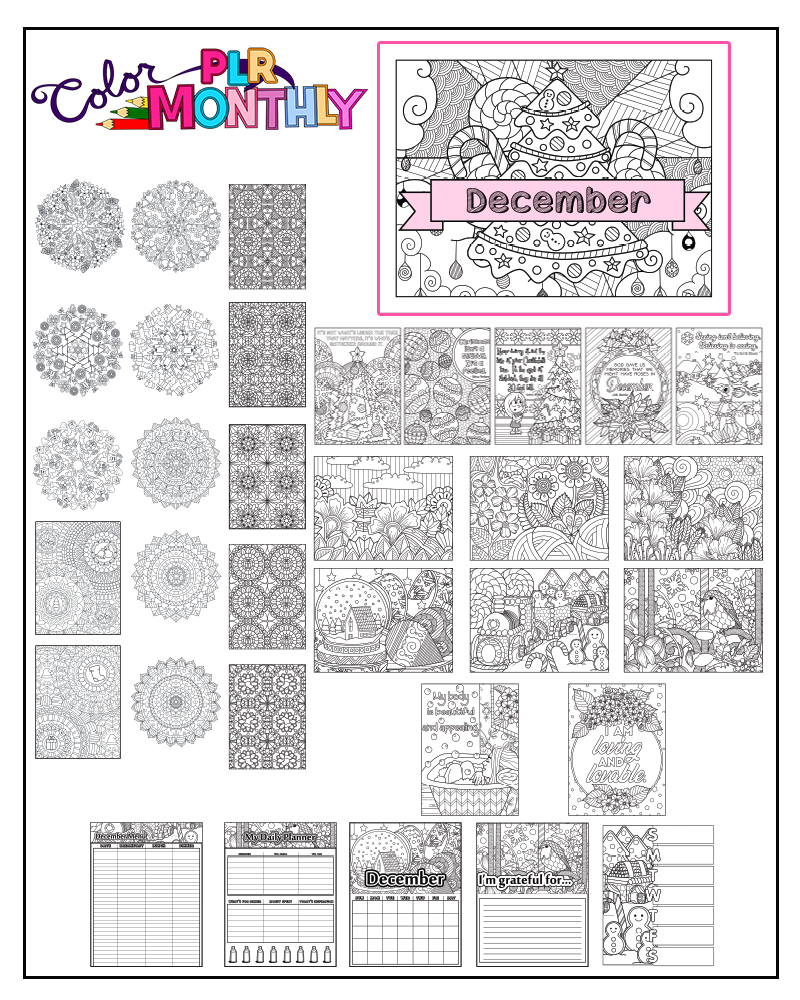 What If It Were Easy To Add Beautifully Designed Coloring Pages to Your Products, Memberships, Emails, or Coaching Program?
With Color Monthly PLR, it is easy! Enjoy PLR rights to this professionally designed coloring package.

A Total of 35 Gorgeous Pages, with a Christmas Themed, Including:
December Cover Page + Duplicate Color Page with No "December"
(10) Unique Mandalas
(5) Patterned Pages
Ginger Bread riding the Christmas train

 

Ginger Bread
Bird and Snowflake
Christmas Tree and Candy Cane
Snow Globe and Christmas

 

It's not what's under the tree that matters, it's who's gathered around it.
Christmas isn't a season. It's a feeling. – Edna Ferber
Never worry about the size of your Christmas tree. In the eyes of children, they are all 30 feet tall. – Larry Wilde
God gave us memories that we might have roses in December. – J.M Barrie
Seeing isn't believing. Believing is seeing. – The Santa Clause
December Calendar with Christmas Snow Globe
Gratitude Page with Bird and Snowflake
Weekly Calendar with Ginger Bread
December Menu with Ginger Bread and Candy Cane
Daily Planner with Bird and Snowflake
Affirmation: I am loving and lovable.
Affirmation: My body is beautiful and appealing.
All images in JPG and PDF format. The Planner Pages (Weekly Planner, Daily Planner, Menu Planner, Calendar and Gratitude Pages) also include editable PSDs.
Calendars do not have the 2020 date on them. They simply say "December".