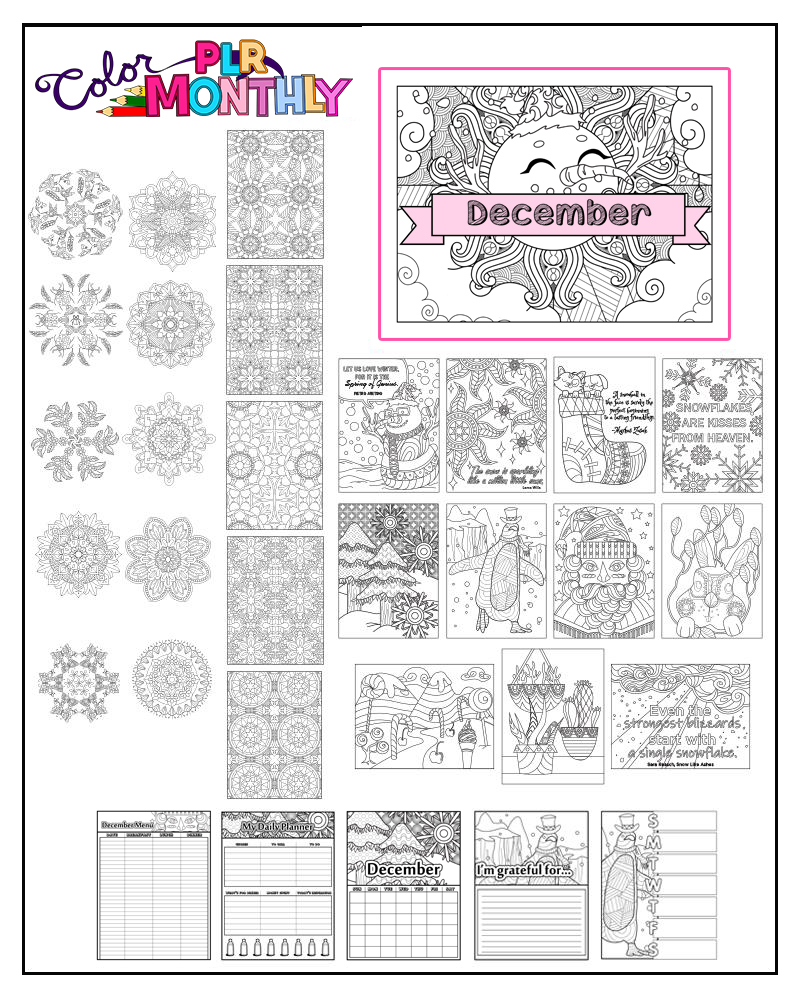 What If It Were Easy To Add Beautifully Designed Coloring Pages to Your Products, Memberships, Emails, or Coaching Program?
With Color Monthly PLR, it is easy! Enjoy PLR rights to this professionally designed coloring package.

This Bundle Includes The Following Beautifully Illustrated December Themed Coloring Pages. A Total of 31 Custom Pages, with a Winter/Christmas Theme, Including:
December Cover Page + Duplicate Color Page with No "December"
(10) Unique Mandalas
(5) Patterned Pages
Penguin in a Top Hat and Scarf
Traditional Santa
Outside Christmas Tree Scene
"Even The Strongest Blizzards Start With a Single Snowflake" – Sara Raasch, Snow Like Ashes
"Let Us Love Winter, For It Is The Spring Of Genius" – Pietro Aretino
"The Snow Is Sparkling Like A Million Little Suns" – Lama Willa
"A Snowball In The Face Is Surely The Perfect Beginning To A Lasting Friendship" – Markus Lusak
"Snowflakes Are Kisses From Heaven"
Potted Succulents
Candy Land
Bunny in Ivy
December Calendar with Outside Christmas Tree Scene
Gratitude Page with Penguin in a Top Hat and Scarf
Weekly Calendar with Penguin in a Top Hat and Scarf
December Menu with Traditional Santa
Daily Planner with Outside Christmas Tree Scene
All images in JPG and PDF format. The Planner Pages (Weekly Planner, Daily Planner, Menu Planner, Calendar and Gratitude Pages) also include editable PSDs.
Calendars do not have the 2019 date on them. They simply say "December".