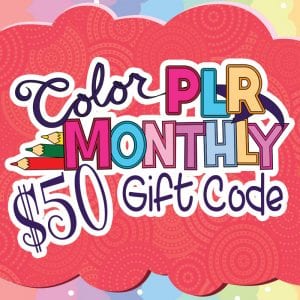 Thanks so much for participating in the Content Creation Bundle Event! We're super excited that you're here! Your $50 coupon code is:
CREATION
Here's how it works:
Shop our coloring pages and journals.
Add your products to your cart. (The coupon only works once, so make sure to have at least $50 worth of goodies in your cart first. It WILL work if you have less than $50, but you won't be able to claim the difference later. )
Enjoy!
Go Shopping!
License Info:
Welcome to Color Monthly PLR! All images are in JPG and PDF format to make it easy for you to either edit, or use as-is. Because of the unique form of PLR as coloring pages, it's super important you read this licensing agreement completely.
Should you have any questions, feel free to contact us at: support@colormonthly.com.
Purchasers have full permission to:
Alter/rebrand the pages/elements of the pages in any way
Create merchandise with the pages/elements of the pages
Create a membership site selling coloring pages
Sell the coloring pages as a package, or element of a larger package/product
Offer pages as a bonus for a paid product or membership
Offer pages as a resource within a paid membership
Offer the pages as a bonus for paying clients
Print the pages and give them away to customers or members in person
Print the pages and sell them to customers or members in person
Offer the pages as an optin resource
You may NOT sell the pages as a book on Amazon (it's their rule, not mine).
You may NOT publish the content for free on the web. (this protects everyone's investment)
You may NOT resell the PLR rights to any images in any package.  
In a nutshell, an individual must give you their email address, or buy a product, service, or membership from you to be given these materials online – EVEN INDIVIDUAL ELEMENTS OF THE PAGES. This boosts the value of this package for everyone – these are not coloring pages that you can simply google and find. These are hand-crafted masterpieces that your clients and customers will be honored to color!
(Offline you don't need an email address – you're cool to hand them out.)
It is a joy to be a part of your business, and I can't wait to see what is in store for you. In the meantime, DREAM BIG!