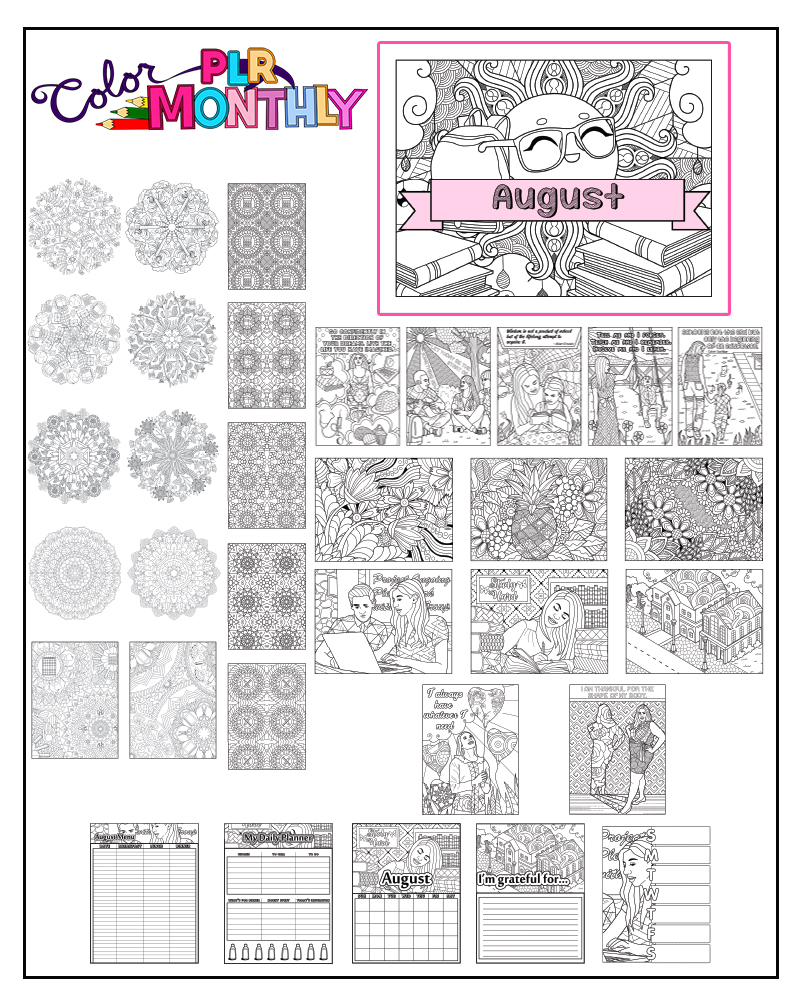 What If It Were Easy To Add Beautifully Designed Coloring Pages to Your Products, Memberships, Emails, or Coaching Program?
With Color Monthly PLR, it is easy! Enjoy PLR rights to this professionally designed coloring package.

A Total of 31 Gorgeous Pages, with an Education & End of Summer Themed, Including:
August Cover Page – Education
Cover Page – Education (no month name)
Suburban Street
Study Hard
Project Group
August Calendar – Study Hard
August Menu – Project Group
My Daily Planner – Study Hard
Weekly Planner – Project Group
Gratitude Page – Suburban Street
I Always Have Whatever I Need
I AM Thankful for the Shape of My Body
Flower Doodle
Flower Corner
Pineapple
10 Mandalas
5 Pattern Pages
"Go confidently in the direction of your dreams. Live the life you have imagined. " Henry David Thoreau
Let today be the start of something new
"Wisdom is not a product of school but of the lifelong attempt to acquire it." – Albert Einstein
"Tell me and I forget. Teach me and I remember. Involve me and I learn." Benjamin Franklin
"School is not the end but only the beginning of an education." Calvin Coolidge
All images in JPG and PDF format. The Planner Pages (Weekly Planner, Daily Planner, Menu Planner, Calendar and Gratitude Pages) also include editable PSDs.
Calendars do not have the 2020 date on them. They simply say "August".