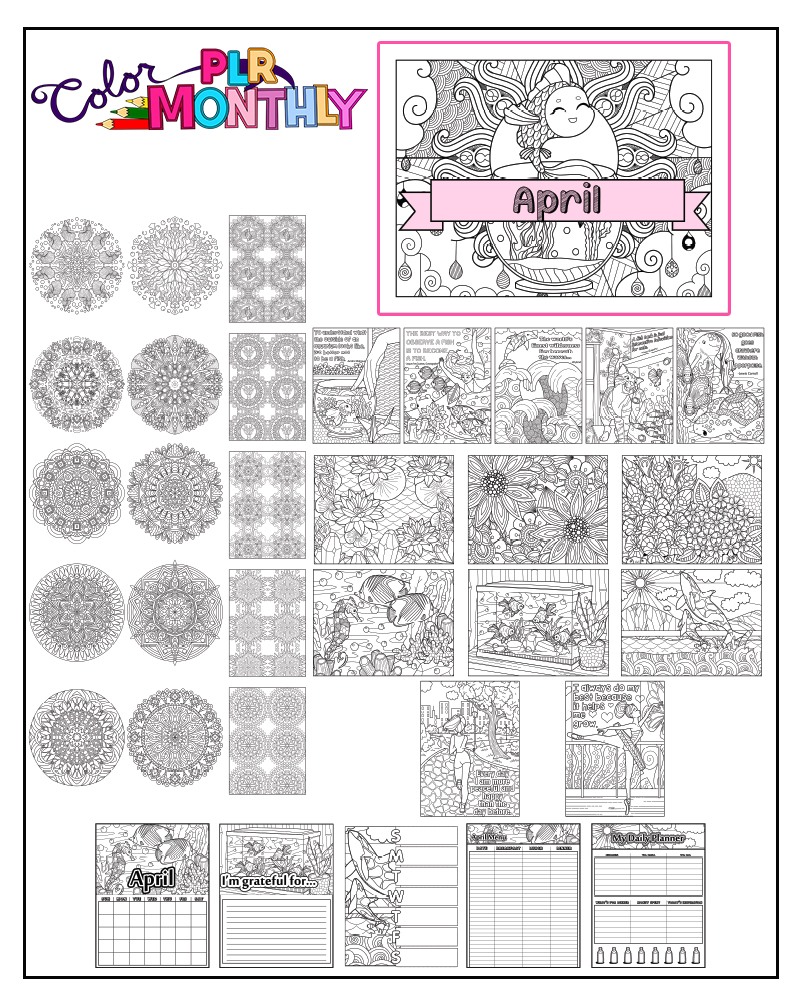 What If It Were Easy To Add Beautifully Designed Coloring Pages to Your Products, Memberships, Emails, or Coaching Program?
With Color Monthly PLR, it is easy! Enjoy PLR rights to this professionally designed coloring package.

A Total of 35 Custom Pages, with an Aquarium Theme, Including:
April Cover Page + Duplicate Color Page with No "April"
(10) Unique Mandalas
(5) Patterned Pages
To understand what the outside of an aquarium looks like, it's better not to be a fish. -Andre Malraux
"The best way to observe a fish is to become a fish." — Jacques Yves Cousteau, Oceanographer
The world's finest wilderness lies beneath the waves …" — Wyland
A fish tank is just interactive television for cats. -Oliver Gaspirtz
No good fish goes anywhere without a porpoise. -Lewis Carroll
April Calendar with Unicorn and its fishes friends
Gratitude Page with Fishes in an aquarium
Weekly Calendar with Flying Dolphins
Daily Planner with Flying Dolphins
Flying Dolphins
Seahorse and its fishes friends
Fishes in an aquarium
Affirmations:  Every day I am more peaceful and happy than the day before.
Affirmations:  I always do my best because it helps me grow.
All images in JPG and PDF format. The Planner Pages (Weekly Planner, Daily Planner, Menu Planner, Calendar and Gratitude Pages) also include editable PSDs.
Calendars do not have the 2021 date on them. They simply say "April".