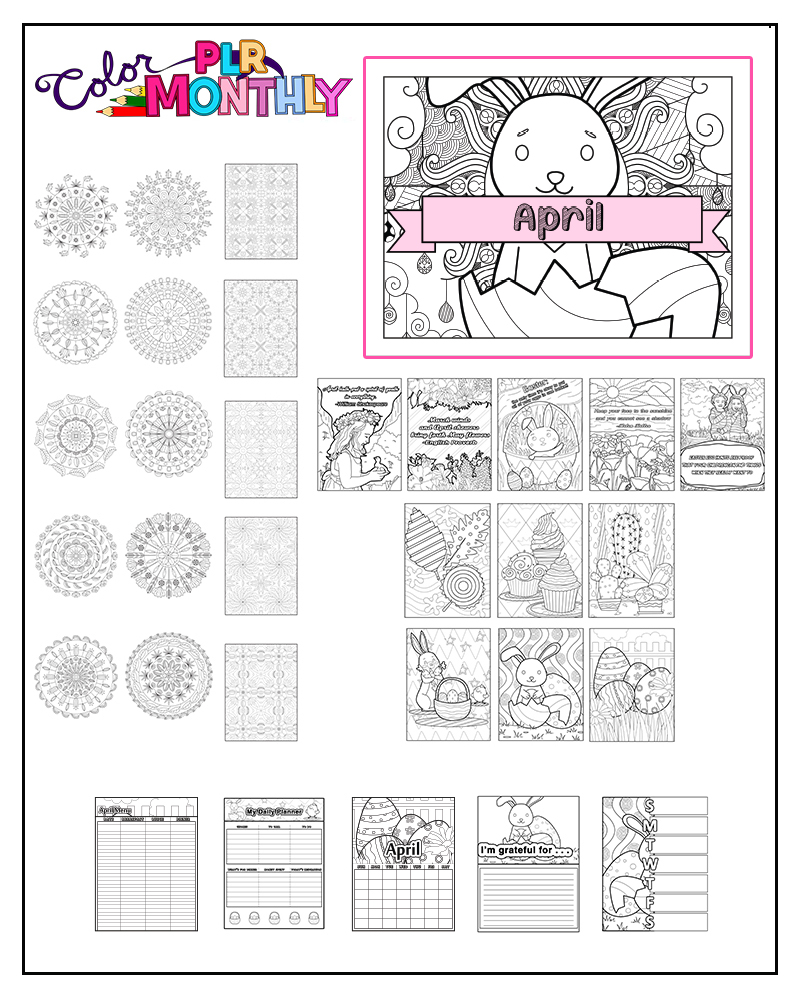 What If It Were Easy To Add Beautifully Designed Coloring Pages to Your Products, Memberships, Emails, or Coaching Program?
With Color Monthly PLR, it is easy! Enjoy PLR rights to this professionally designed coloring package.

A Total of 31 Custom Pages, with an Easter Theme, Including:
April Cover Page + Duplicate Color Page with No "April"
(10) Unique Mandalas
(5) Patterned Images
Springtime Clothes Collage
Succulents in Rain
The King of Cupcakes
"April hath put a spirit of youth in everything." -William Shakespeare
"March winds and April showers bring forth May flowers." – English Proverb
Easter: The only time it's okay to put all of your eggs in one basket!
"Keep your face to the sunshine and you cannot see a shadow." -Helen Keller
Easter egg hunts are proof that your children can find things when they really want to.
Easter Eggs on a lawn
Cracked open egg with Easter Bunny inside.
Easter Bunny with basket and chick.
Easter Egg Weekly Planner
Easter Egg April Calendar
Easter Bunny Gratitude Journal Page
Fence Post Menu Page
Easter Bunny & Chick Daily Planner
All images in JPG and PDF format. The Planner Pages (Weekly Planner, Daily Planner, Menu Planner, Calendar and Gratitude Pages) also include editable PSDs.
Calendars do not have the 2020 date on them. They simply say "April".