Adult Coloring Designs Offered With Private Label Rights!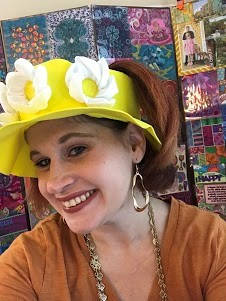 Rayven Monique here with my newest package of coloring designs for adults with PLR rights – Curious Quilts Coloring Designs .
I'd love your partnership in sharing this offer with others!
50% Commission 
Your Affiliate Link:
https://colormonthly.com/order/aff/go/USERNAME?i=80
Replace USERNAME with your username.
(Not an affiliate yet? Sign up here: Color Monthly PLR Affiliate Program)
First Offer Curious Quilts Coloring Designs For Only $17!
Regular Price For 20 Pages is $30
Have Your Users Use Coupon Code
QUILTS
For $13 Off, Making Package $17
One-Time-Only Upgrade Offer 20 More Coloring Designs For $17!
(coupon code automatically applied for one time offer at checkout)
This Bundle Includes The Following Beautifully Illustrated Scenes Of Quilts And Quilting Themed Coloring Pages:
1. Patched Patterns Quilt
2. The Pharaoh Quilt
3. "Happy Is The Man Who Can Make A Living From His Hobby"
4. A Day Patched With Quilting Seldom Unravels
5. Moon & Constellations
6. When Life Knocks You Down, Dust Yourself Off And Get Back Up Again
7. "I Cannot Count My Day Complete, Till Needle, Thread And Fabric Meet"
8. Quilters Are Artists Who Paint Masterpieces With Fabric And Write Symphonies With Stitches
9. Lighthouse at Sunrise
10. Chinese Dragons
11. Quilter By A Window
12. Rose Pattern Quilt
13. Windmill Quilt
14. Geometric Flower Quilt
15. 3D Boxes Quilt
16. Ray of Light Quilt
17. Irregular Mandala Quilt
18. XOXO Quilt
19. Victorian Mismatch Quilt
20. Woven Quilt
These PLR Bundles Rock!
These PLR Bundles Rock!
All files in PDF, JPG, and PSD
Private Label Rights!
20 Gorgeous Pages for $17!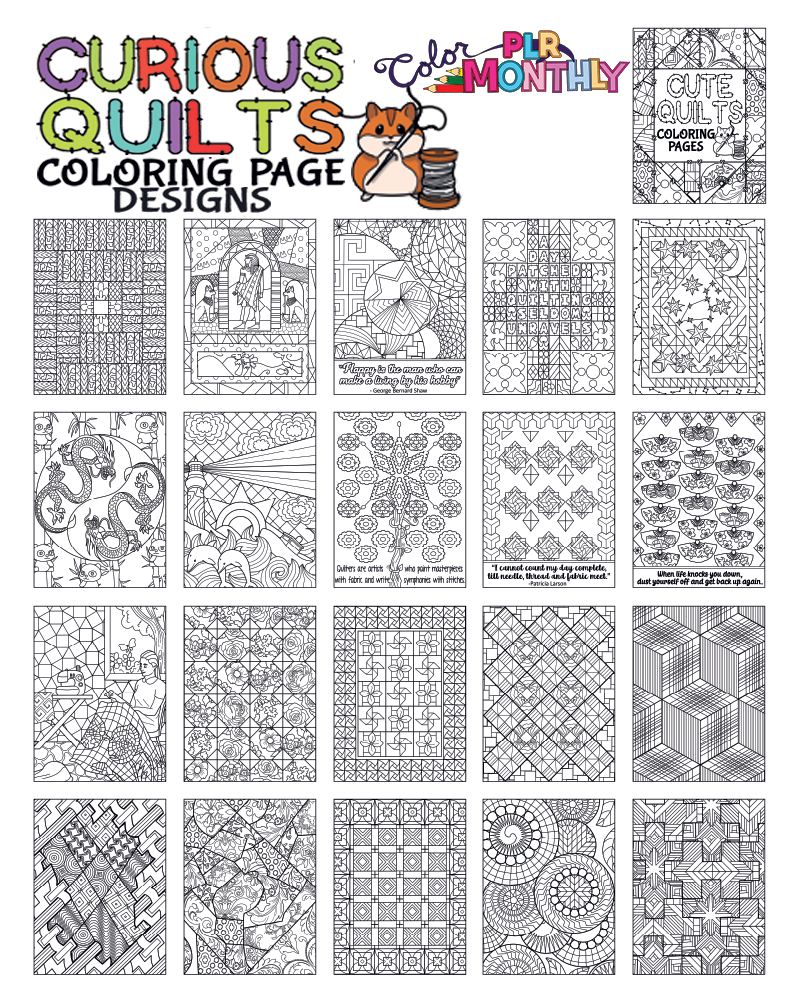 Ideas on How to Use This Package:
Create your own monthly coloring membership
Add to journals, planners, and other low content offerings
Use as part of a coaching program
Allow customers at restaurants, group homes, schools to use
Provide as opt-in freebie
What Customers Can Do With These Designs:
DO: alter/rebrand entire page/elements of page as desired
DO: or, leave as-is!
DO: create merchandise with pages/elements of pages
DO: sell alone or as part of a membership
DO: offer as a bonus or resource for a paid product or membership
DO: print the pages and give away in person
DO: print the pages and sell them in person
DO: offer pages as opt-in resource
What Customers Can't Do:
DON'T: sell as a book on Amazon (against their TOS)
DON'T: publish pages for free on the web
DON'T: resell the rights to this package, or any elements within
In a nutshell, an individual must give their email address, or buy a product, service, or membership to be given these materials online – EVEN INDIVIDUAL ELEMENTS OF THE PAGES. This protects the value of this package for everyone!
(Offline no need for an email address – it's cool to hand them out.)